You are the next contestant on the Price Is Right!

Well, at least that's what I'm hoping to hear tomorrow. Yes, I'm going to a Price is Right taping, the very first taping with Drew Carey as the host. To say I'm excited is an understatement. I love The Price is Right, and I love Drew Carey. How could it get any better? Right...if I get to be a contestant.

The worst part of all of it is that I'm getting there at 1am to get in line. Completely ridiculous, I know, but I want to be guaranteed to get in...from what I've read, you have to get there extremely early in order to get in. I'm not taking any chances.

What is great is that if I don't get picked to be a contestant (and really, what are my chances, like 8 in 325? Not the greatest), I am still guaranteed to be a contestant on a game show: a new show is taping for FOX, and I'm slated to be on it. I was supposed to tape my episode this past week, but at the last second I got bumped b/c one of the previous winners decided to come back on the show. Boo! However, if that hadn't happened, and I'd taped my episode, my hands would have been tied regarding The Price is Right: I wouldn't have been able to even TRY to be a contestant. You can only be on one game show per year, it's pretty standard with all the game shows. So, now that I was bumped for the new game show, I can try to be on TPiR. If I make it as a contestant, GREAT! If not, still great, because I won't have any regrets regarding TPiR (what with not being able to show my personality and try to get on), and I'm still going to be able to compete for some terrific prizes on the other game show. I win either way. Worst case scenario: I get picked as a contestant on TPiR, I get to contestant row, and then don't go anywhere from there. That'd suck, because I'd have officially been a "contestant" and wouldn't be able to do the other game show. But we won't think about that, 'cause it's not gonna happen. No way! I'm in it to win it.

In other news, I start training for my new job next Tues. I will be a polysonographer, working at a highly respected (ie the celebs go there) sleep center. I'm kind of excited about it. It comes at a strange time: just as I finally get work as a newborn baby nurse, and lots of inquiries are pouring in after the family I worked for posted a recommendation for me, I get this job. I was torn about what to do, I really love working with the babies, but it's all freelance...nothing is guaranteed or steady. This job is steady, has a great salary, and benefits. So, I guess my decision has been made.

I'm off to pack the stuff I need for sitting in line for TPiR....UNO, travel Scrabble, sleeping bag, ipod, etc. Plus I have to make my tshirt: "DREW ME, BABY!"
Current Mood:
cheerful
Current Music: Big Brother 8 in background
Got a new piece to share. I worked on a piece for the NibbleFest (the theme is Birds) and I have to say, I really, really like it. So much that I'd truly like to keep it. But bills call...I must sell. I need the money!

Even though I do all of my work without references, and in this instance I simply made up a bird with no concept as to what type of bird it was, John at EBSQ mentioned that it reminded him of a Phoenix. I'm inclined to agree. Which is great, because the story that follows the Phoenix, with it's rebirth, resonates with what I've been going through in my life lately. How coincidental! (or is it just how those things happen to go?)

Here it is, it's 4" x 6", professional grade acrylics (Golden's...the best acrylics in the world):
It's tentative title is Bird. Pretty ingenious, I know.



So, besides that, I've listed my Pear again on Ebay.

Maybe I can get another painting done soon...I'm on a roll!

Current Mood:
calm
Current Music: America's Next Top Model
| Yuck! | Feb. 21st, 2007 @ 09:10 pm |
| --- | --- |
I'm sick. Boo!
Current Mood:
sick
I've done one of my first paintings in a long, long while...February's NFAC theme is Fairy Tales, so I chose Rapunzel. The title of the 4" x 6" painting is "Blonde with the Wind," and here's the story:

Poor Rapunzel. Trapped up in a tower all alone for ages and ages, and when she finally has a means to get a little company by letting her long, long hair down to the ground, what happens? Those darn Santa Ana winds, that's what. Rapunzel's hair is whipping around like crazy in the wind, not even getting close to the ground. I guess she'll just have to wait it out....but until it dies down, she's just blonde with the wind.
And here she is. The painting (and all that hair!) wraps around all sides of the gallery wrapped painting:



I also completed a little pear painting that I'm about to scan. I have several paintings that I need to start, the most important of which are the swaps for Tracey Allen Greene. A pet portrait swap as well as a portrait swap. I've got a lot to get done! Tonight, though, I'm thinking of starting a piece for my home (and, as usual, I'll probably list it...I'll sell anything I can get my hands on. LOL). What I'm thinking of is a piece to go over my bed. My bedroom has white walls and beautiful hardwood floors, and I have a theme of white, dark brown and a pretty blue-green happening in there. Oh, and I have a gorgeous Persian rug on the floor that's red with all kinds of colors, but it also includes the exact shade of blue-green as one of my pieces of furniture. Happy happenstance. But back to the painting: I think I'll go with a cool 12" x 36" canvas...paint it that blue-green color, have some dark brown branches, then cover them with some cherry blossom-like flowers in white with a tiny bit of red. Looks pretty in my head, anyway. ; )

Current Mood:
cheerful
Current Music: TV
I'm pretty sure that I started a new livejournal, but I forgot the name I used so I'm back. *sigh* I found out that someone had printed out part of my LJ and were showing it around, and that gave me a good smack. I won't post stuff that's too personal.

Quick update: got divorced, moved to Los Angeles. Beverly Hills, in fact. I'm wondering if I'll ever get over that weird pang of embarrassment when I tell people where I live...it's like, "Hi, my name is Kelly. My middle name is PRETENTIOUS." I mean, I immediately want to explain to people that I only live here b/c this was the only landlord willing to give me a lease when I have no job. Hey, I wanted to live in Santa Monica. But Bev Hills isn't too bad. Except for the permit parking, which I won't talk about lest I explode.

I'm actually beginning to paint again. I can hardly believe it myself, it's been so long. I've missed it. I just finished the sketch for my next Nibblefest piece. The theme is Fairy tales, and I'm painting Rapunzel.

Other than that, I'm just settling into my apartment. One of these days I'll have the place finished...hopefully sooner than later. I'm just sad that I had to leave most of my art supplies back in Georgia when I moved. At least I got all my paint and pastels, but I had to re-stock my canvas supply. My wallet is still recovering. However, I was thrilled to at last venture, in PERSON, into a Dick Blick. I was a kid in a candy store, and the employees were all excited for me when I told them it was my first trip in there after buying tons of stuff online. They weren't excited enough to give me any extra discount, though. Poo.

Current Mood:
artistic
Current Music: Discovery Channel
» Update on the Update
I'm back. So, more about that hit and run in ATL. Here's what the fool did to the car: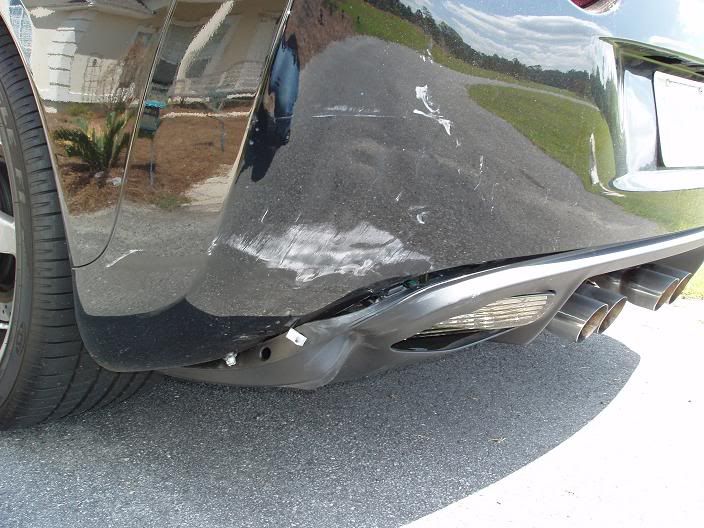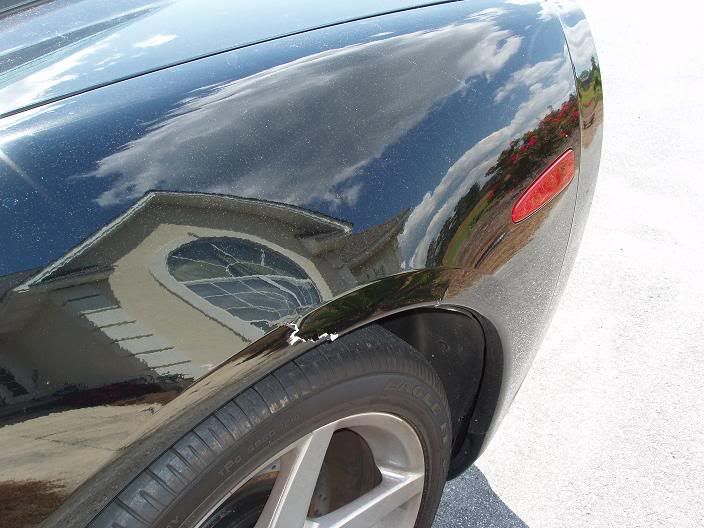 It's fixed now, thank goodness. It's disgusting, isn't it.
Well, I've got a new piece up for the NibbleFest Art contest, the theme this month is Twilight Zone, so I painted something related to my favorite episode, "The Invaders." Here's the final piece:
That's all for now, I seriously need to get painting again....ah, I'll probably forget all about my acrylics after I order my birthday gift: a Sennelier 120 oil pastel box set. I'm going to order about $30 extra from Dick Blick so that I can meet the $200 minimum to get free shipping. Why not? Shipping on the box set would be $15.00, so it just makes sense. At least it does to me! LOL
» Fastest update in history
I'm going to make this quick. It's past 7am and I still need to go to bed! I've been up working with a template site that I just joined, so that I can sell odds and ends off of another Ebay selling ID. Rest assured I'll post those auctions when I list them tonight.

Other than that, I'll update quickly, then elaborate later when I have time:
1) got a new pain patch, I'm footloose and fancy-free. No kidding. It's amazing.
2) wrecked the brand new Vette. Not my fault, I was rear-ended in a hit and run in downtown ATL.
3) got my bloodwork back from the Emory GI doc. Antibody for Crohn's is positive. I have it.
4) contemplating disability.
5) got the Vette back, replaced bumper and side panels are better than ever.
6) have lost all motivation to paint with acrylics. I only seem to reach for oil pastels. It's starting to depress me, since I can't get things done.

Oh, and I just want to quickly add: HOORAY FOR TOM ON SURVIVOR! (whew)

In the words of Arnold, I'll be back.

» I'm back from wherever I was
That was quite an extended absence from LiveJournal, sorry! I'm back now, with tons of updates.
First, I'll talk about the new medium that I'm really getting into: water-soluble oil pastels. They're great to work with, and I'm in love with the vibrant colors. Sort of tough to deal with because they're incredibly messy, but overall it's very satisfying. Here is one of the new pieces that I did in this medium...all of them so far are on the theme of flowers in vases with lemons:
And, you can CLICK HERE to see all of my current listings.
So, I've been having fun...I'm going to see if I can find another set of pastels with more color options, so that I can do my next NibbleFest piece in oil pastels. (the theme is awesome, Alice In Wonderland!)
Other than that, things have been going well. My doctor put me on a pain patch which, although it's too strong and I need him to bump it down a notch, is working fantastically. The first time in a year and a half that I have had NO PAIN. I've been so happy, it's really life-changing.
I had a really nice time the other night...I went to see an old High School buddy perform at the Whole World Theater in Atlanta. It's an improv show. I tell you, if anyone was destined to be a comedian, it was Joe. He had the best sense of timing, and had such a droll way of being hilarious...and the great ability to keep a straight face. Needless to say, he was terrific! The show was a blast, and I literally cried I laughed so hard throughout the night. Totally worth the oh, ten hours that I drove to get there and back (with a few detours).
You know, it's times like this that I really wish that I lived closer to civilization....I am burning to go to an art store, but of course the closest one is an hour away (each way). Ugggghhhhh. Sheer torture.
Well, that's the update in a nutshell....oh, and also, I bought a chess set yesterday. Kevin and I played (neither of us had played in YEARS). He beat me right at the last minute. Very good game, and he did remarkably well, considering that I took his Queen quite early in the game. I look forward to a rematch.
That is all for now....go now and buy all of my auctions so that I'll be happy, I totally deserve it! LOL
» Good GRIEF!
I did the two ACEO pieces the other day, scanned them yesterday, and guess what? Now I can't find them at all. Where did I put them???? I remember taking them off of the scanner, taking the masking tape off the back of one of them, putting them together, walking towards the bedroom (where all my art stuff is)....and then, nothing else. I can't remember what I did with them, and I have turned this room upside down looking. Unbelievable. I sure hope I find them before the auctions end. You know, IF they get bids. This is crazy. Of course, I'm feeling a little nuts myself, so I'm sure it's just me. Ugh.

» Crosses
I'm a cross painting fool today...I painted two yesterday for ACEO (Art Cards Editions and Originals). They're like art trading cards. Anyhoo, I'm working on a series of nine, and painted two of them yesterday. Tonight, I finished the other seven. I'm really enjoying these, but the series is over now, so I've got to think of another series of 9 things that I can paint. Perhaps coffee mugs? Eh, I don't know. I had thought of doing more crosses, but making them on backgrounds that look sort of like stained glass. We'll see how motivated I am with that idea after I see how these sell.
I tried a little something different, since my hits are in the toilet....Ebay has half off of a lot of their extras today, so while it's only $10 I sprung for updating one of my auctions to Featured Plus. <---hating myself for doing that. Well, hating that I HAVE to do that in order to get exposure. Stupid Ebay. So anyway, I took one of my larger paintings and featured it. It's one that I have hanging in my office at home....I absolutely love it (it looks SO much better in person)...Kevin absolutely hates it. At least he doesn't ever complain that it's hanging in the house. We'll see if it will sell this go 'round. I was devastated when it sold for such a nice price on Overstock, but the person never paid. And the other bidder never responded to a second chance offer. FLAKES! I hate flakes!
Gah. So, I listed the featured auction right before midnight, and it has several hits already. We'll see if it's working for what I want it to do in a few days. If people view all my other auctions off of that one, it's a success. Heck, even if they don't and that big one sells, it's still a success. I'm not picky.
But....I have a feeling that hits will start rolling in tomorrow, because I listed two of the ACEO pieces. Here are photos of #1 and #2 in the series:
I reallllllly like them. You should see how they look in person, all glossy from varnish. They're really sharp. Seriously, there shouldn't be a big deal about getting $5 a piece for them, but I'm sure I'll have a hard time getting bids, as usual. Really, I'm never a negative person, but Ebay brings out the worst in me sometimes.
Now that I'm thinking about it, I've got to try to get in touch with that Prana gallery again. I emailed to ask several questions about their contract (they mentioned one piece for their permanent gallery, and my minis to sell in the bizarre---that bothers me the way they spell bizarre, but it's not my Gallery, so whatever) ANYWAY, my email bounced back to me...it was the email address of their website, so I don't know what's up...I'm going to look around some more for a legit email addy. I've heard they joined EBSQ, so I know they're a legit gallery. (and really nice, to boot, which helps).
:::sigh::: I'm running off at the mouth. I just have this inner frustration that I can't ever seem to shake. Things pile up in my mind until I feel so weighed down that I can't stand it. I feel like I'm just bubbling over right now, but that's probably good in the long run. I'm just extremely anxious about what it's going to be like when I run out of medicine. The withdrawl is probably going to kick my butt, and that's not considering the pain I'll be in. I'll have to face that when it comes, I guess. I still have an appt. set up at Emory with Dr. Klapproth.......that whole appointment setup thing ticked me off so badly, I swore I wouldn't go back, but hmmmm. I'll make that decision in a few days. The appt. is for the 14th....perhaps I could go and make something good out of it, and go to the comedy club later. But I swear to God, if Dr. Klapproth tries pushing Remicade on me like he's been hinting at, I'll scream. Right there in Emory. I'm sick of these doctors accepting the tentative GUESS of the colorectal surgeon as God's Truth About Kelly's Behind. They hardly even examine me, and they've made a diagnosis of an autoimmune disease? Heck, they keep saying that I have a fistula, and it's NOT. It's a tear...big difference. I've had a fistula, I should know the difference, I had to live with the gazillion surgeries to fix it.
Ahhhh....you know what calms me down at times like these? Vegging out, watching ShopNBC. But only when they have jewelry on, which they do right now. It's 14k gold jewelry. Not my first choice, my absolute favorite is 18K, but it'll do in a pinch. Wait....I have another favorite....those ancient coins that they make into pendants. GORGEOUS. And history as well. Could it get any better? I treasure my ancient coin pendant...it's over 2000 years old, and that still baffles me. From Persia. I love that necklace, and wear it more than any other necklace I've ever owned.
Alright, off to bed...it's only 6am, I guess it's time.